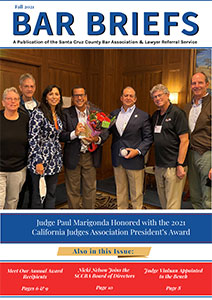 Four times a year, the Santa Cruz County Bar Association publishes the Bar Briefs—an online, printable publication containing announcements, information about upcoming events, photos, and advertising.
Bar Briefs is published in January, April, July, and October.
2021 Content and Advertisement Deadlines

March 12
June 11
September 10
Ad Format
Submit artwork in a high resolution png or jpeg format
Activated links may be included so readers can navigate easily to learn more about your service.
Dimensions
W x H (inches)