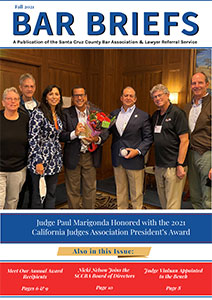 The Bar Briefs newsletter is an online publication that is distributed online to our members in January, April, July and October.
Submit Articles/Photos/Announcements
Submissions of articles, photos and announcements are welcome. All content is subject to approval by the editor.
Advertise in Bar Briefs
Ad formats and advertising rates.

2021 Bar Briefs Advertising Deadlines
The 2021 deadlines for submitting content and ads are March 12, June 11, September 10.
If you have any questions, please contact us at sccbar@sbcglobal.net.
Login in here to access Current and Past Bar Briefs Newsletters